"I purchased my horse Jefferson D'Aurois through Last Frontier Farm and Sharon White. It was a fantastic experience. Sharon was very open and candid about everything concerning the horse, including his competition and veterinary history, and made sure I had all the information I needed to make an informed decision. The result has been fabulous. Jeff is the horse of a lifetime and I am very lucky to have him. I wholeheartedly recommend Sharon to anyone hoping to find a great horse!"

~ Kevin Baumgardner, former USEA President
Last Frontier Farm works to keep our sales page updated with the latest information, but horse prices do change with additional training and competitive experience. We get new horses in all the time, so please call us for the latest sales list.
Barn phone: (304) 724-7279
Horses Over $50,000
There are currently no available horses in this price range.
Horses $20,000 to $50,000
*SOLD* Tiny Tina
2013 Zweibrucker mare (Fantasmic – Ramona H) – 16.3. hands
Tiny Tina was thoughtfully produced by an amateur rider for her entire eventing career and is now seeking her next person. We can't say enough good things about this classy mare: she's a lovely mover, she's brave but not too strong, and she always comes with her game face on. She has mileage through Training level, most recently finishing second at Ocala Winter I H.T., and would be a suitable partner for someone looking to step up or to have fun/learn the ropes at the lower levels. Tina won't be around long, so book a time to come and see her in Ocala through the end of April. 
*SOLD* Arden Katniss
2016 Thoroughbred/Warmblood mare (Jaguar Mail – Lioness) – 16.2 hands
Katniss has a keen desire to jump, making her a super athlete who is an absolute blast to ride for anyone wanting a horse to pursue their dreams with. She's U.S. bred and sired by the elite Thoroughbred Jaguar Mail, who has sired many Advanced and 5* horses competing globally. Her dam, Lioness, is a daughter of Lion King, who you may recognize as Bruce Davidson's Irish stallion. Katniss is currently competing at Novice and ready to keep progressing up the levels with her new partner. 
$50,000
Horses $10,000 to $20,000
BB
(R Blue Moon – Kesla)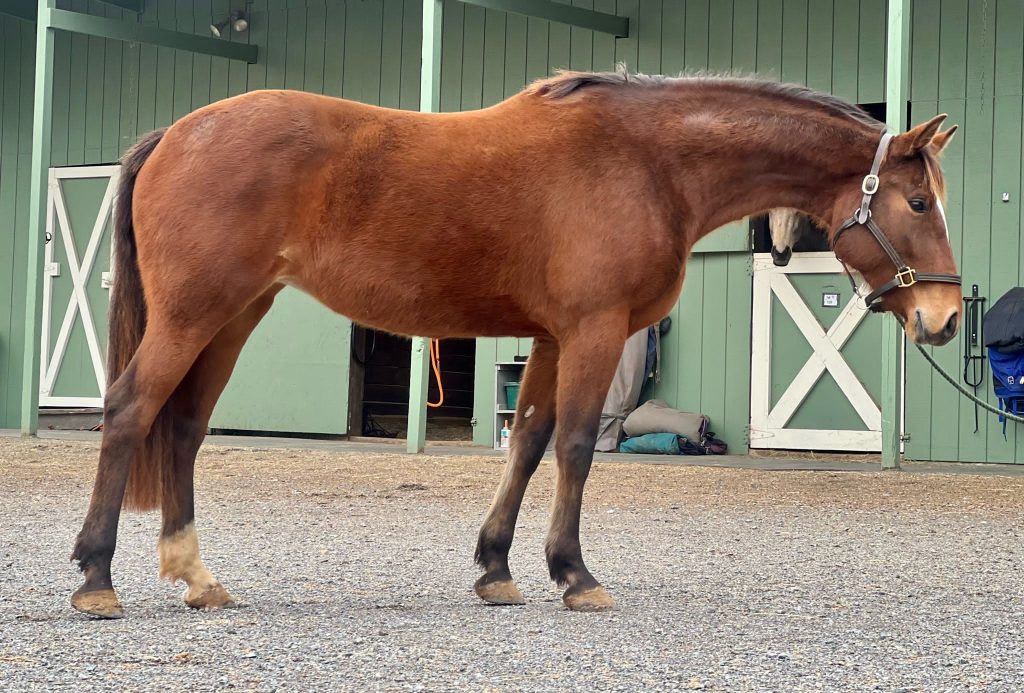 Calling all Connemara lovers! "BB" is an adorable 4-year-old (2019) Connemara/TB cross mare standing approx. 15.2 hands. She can walk/trot/canter under saddle and has starting jumping small cross country. She happily splashes through the water, jumps over ditches, and doesn't bat an eye at up and down banks. She hacks out alone or in company and stands politely for the vet and farrier. BB is a very sweet, personable girl on the ground, and she's super willing under saddle. She's also barefoot with excellent feet! Owner life changes prompt sale – don't miss out on your new best friend! 
Video: https://youtu.be/JDtdLqtKvkE
Horses Under $10,000
*SOLD* Hopscotch
(Cevin Z – Inspiration)
2020 Warmblood Cross mare.
Hopscotch is a homebred of Sharon White's, out of her beloved mare Inspiration ("Bounce"). Hopscotch is 16.2 hands and is just ready to get started with her educational journey. She is a beautiful, balanced mover. She lunges in tack, stands for the farrier and vet, and is ready for someone to take and produce from the ground up! Hopscotch has not been fully backed yet, so will need someone experienced with young horses to take the reins. 
Mid-high 4-figures.