Sharon credits the success of her eventing career and business to the many people who make up the fantastic family of Last Frontier Farm. She feels lucky to have such amazing staff, students, owners, friends and other professionals who all strive to make Last Frontier the best place possible. Many who visit call Last Frontier Farm an eventer's paradise and it is because of the people behind it who make it all possible.
Anna Lawson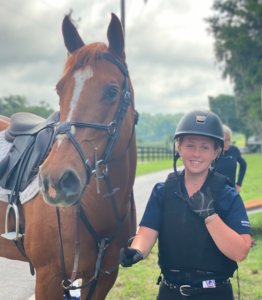 Anna Lawson joined our team in 2021 and officially took the reins as Head Groom last fall. Originally from Georgia, Anna left home when she was 17 and moved to Virginia to work at a fox hunting barn. From there, she picked up a job with Natalie Hollis at Destination Farm, where she worked for over two years and met Sharon. Through Sharon, she met Cornelia Dorr and eventually went to work for her and her fiance, Jacob Fletcher, in Florida for the winters. Anna is a very detailed oriented person and "very OCD" — especially when it comes to horse care! Ensuring that all of their needs are met and turning them out well really gives Anna purpose. She cares for our horses like they're her own and keeps the ship running smoothly at home so Sharon can focus on competing and training.
Woods Baughman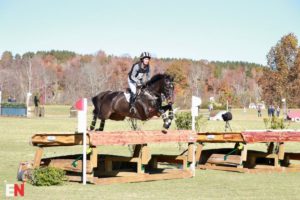 Woods Baughman, a 5* rider and assistant trainer at Last Frontier Farm, has become an integral part of our team. From Lexington, KY, he started riding at age 6 with Maggie Wright at her Champagne Run Farm. At 10 years old, he convinced his parents to purchase a quarter pony named Smoothie with whom he competed at his first events and achieved his C3 rating with the Keeneland Pony Club. In 2014, he qualified for the NAJYRC 1* and finished 12th individually with his horse Truckee Bash as well as Area VIII Team Bronze.
In 2015, Woods met Sharon White and joined Team Orange. That year he qualified for the NAJYRC 2* and finished 6th individually on Montesquieu, and in 2016 he placed second in the CIC 2* with Maverick McNamara. Sharon orchestrated the opportunity of a lifetime for Woods in 2018 by sending him to Germany for a year with Dirk Schrade. There he continued to excel at the upper levels. He came home with his current competition horse, C'est la Vie 135 with whom he finished 6th at the CCI3-S at Bromont in 2019, won the Fair Hill International CCI3*-L, and most recently won the USEF CCI4*-L National Championship at Tryon in 2021, earning a free flight from The Dutta Corp. as a prize (stay tuned on where he plans to go!).
In 2022, Woods made his long-awaited 5* debut with C'est la Vie 135 at the Land Rover Kentucky Three-Day Event, and he is looking ahead to continuing the production of his younger horses at the 3* and 4* level, as well as a potential overseas trip this fall with Contendro.
This exceedingly talented and personable young man is available for lessons for you and your horse here at Last Frontier Farm. Please email us to set up a lesson for you!
George White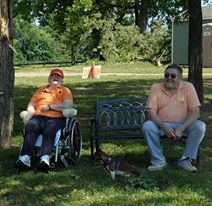 George welcomes everyone who comes to LFF into his home with open arms and a big "feel free to help yourself to anything!". Besides being behind Sharon and Team Orange every step of the way, he cooks everyone amazing dinners, and makes sure the horses always have carrots and the people always have coffee!
Jim Wofford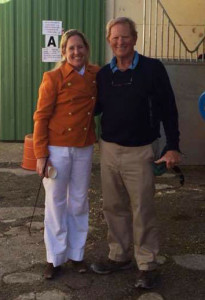 Sharon's longtime coach and mentor, Jimmy is invaluable in many ways. He offers quiet and always well spoken words of wisdom about riding and life. He is just as dedicated to Sharon's long term development – and that of her horses – as he is to more immediate goals. He also keeps an eye on our young horses, and teaches our staff while Sharon is away. A true horseman in all facets of the word, we are honored to work so closely with him!
Bettina Hoy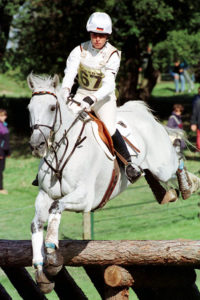 Bettina Hoy is a fantastic resource for Sharon who needs little introduction. A three-time Olympian in eventing, Bettina also competes at the highest levels of pure dressage and brings her detailed, foundational philosophy to each lesson she teaches.
Pearce Hunt and Daniel Watson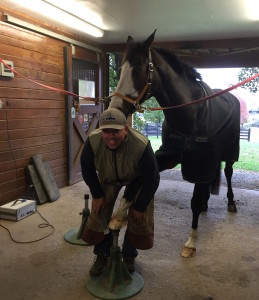 Our fabulous farrier, Pearce Hunt, lives close-by, which is very convenient especially when you have as many horses as we do! Our farrier team has readily accepted every challenge we have thrown at them and we feel very lucky to have him taking care of our horses! We also love working with Daniel Watson, whose care and attention to detail does not go unnoticed.
Dr. Jill Copenhagen, DVM
Jeff is an integral part of our team and is absolutely dedicated to making sure our horses feel their best. He cheerfully puts up with our incessant questions and helps us to stay proactive in the care of our horses. Husband of fellow 5* rider Emily Beshear, Jeff can be found grooming for his wife on the weekends, which is very useful for us as we always have our vet handy to see the horses after cross-country and keep on eye on them throughout the event!
Dr. Lani Newcomb, DVM and Dr. Kathy Broaddus, DVM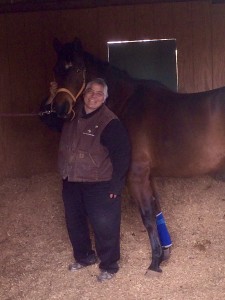 Lani and Kathy are incredible vets and friends who themselves compete in endurance and also enjoy foxhunting. Between the pair of them they have extensive knowledge of equine nutrition, emergency care, and general horse management and also perform all of our acupuncture.

Dr. Liz Paternotte, DVM, MS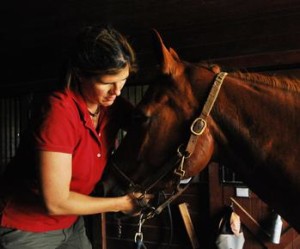 Our chiropractor Liz is in such high demand that we don't get to see her as regularly as we would like, but our horses sure do love when she comes! She offers such a thorough view of how our horses feel in their bodies and her experience as a vet helps her to really see the whole picture. A thumbs up from Dr. P on how your horse feels is one of the best compliments you can get! Visit her website at www.equineperformance.net