JUMP! Returns to Last Frontier Farm this July 4!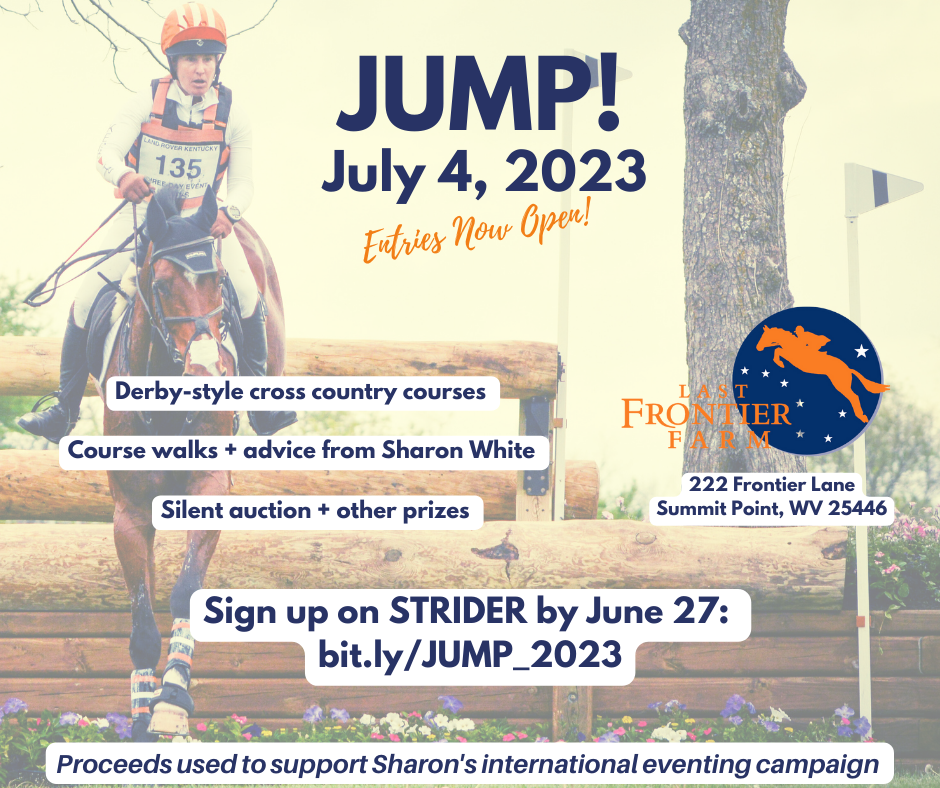 Come JUMP! with Sharon White at Last Frontier Farm in Summit Point, West Virginia this July 4!
JUMP! is a derby-style schooling competition combining cross country and show jumping obstacles for a fun and educational schooling opportunity. Levels range from Intro (18″) to Preliminary (3'7″) with safe, inviting questions appropriate for each division.
Sharon White will be offering course walks and coaching throughout the day, and there will also be opportunities to win raffle prizes, enjoy a cook-out, and meet the Last Frontier Farm team!
Proceeds from this event and the accompanying online auction will be used to support Sharon's ongoing international eventing campaign, most notably with top Advanced/4* horse Claus 63, 3* horse Shirsheen Ice, 2* horse Jaguar Duende, and a strong roster of exciting younger horses!
Divisions Offered:
Intro – no jumps to exceed 18" in height
Elementary Novice – jumps up to 2'3
Beginner Novice – jumps up to 2' 7"
Novice – jumps up to 2' 11"
Training – jumps up to 3' 3"
Modified – jumps up to 3'5″
All JUMP! courses are a combination of stadium-style and cross-country jumps designed to be ridden at appropriate division level speeds.
The day will start with Intro and move up to Preliminary in order to facilitate riding at multiple levels and allow the option to practice moving up. Riders are encouraged to enter multiple divisions, based on ability. A lead horse will be available!
Sharon White will be on hand throughout the day to provide course walks at the start of each division and discuss best practices for both cross-country and stadium jumping.
Please note: No outside dogs are permitted on property.
Late entries will be accepted after closing date of 6/27 for a $25 fee until 6/30.
Refunds and changes available until closing date of 6/27.
Ride times will be released no later than July 2.
We will also be hosting a silent auction featuring many prizes from Sharon's sponsors! If you'd like to donate a prize or item, please email sharon@lastfrontierfarm.com.
Rules for JUMP!: