Sharon credits the success of her eventing career and business to the many people who make up the fantastic family of Last Frontier Farm. She feels lucky to have such amazing staff, students, owners, friends and other professionals who all strive to make Last Frontier the best place possible. Many who visit call Last Frontier Farm an eventer's paradise and it is because of the people behind it who make it all possible.
Alyssa Peterson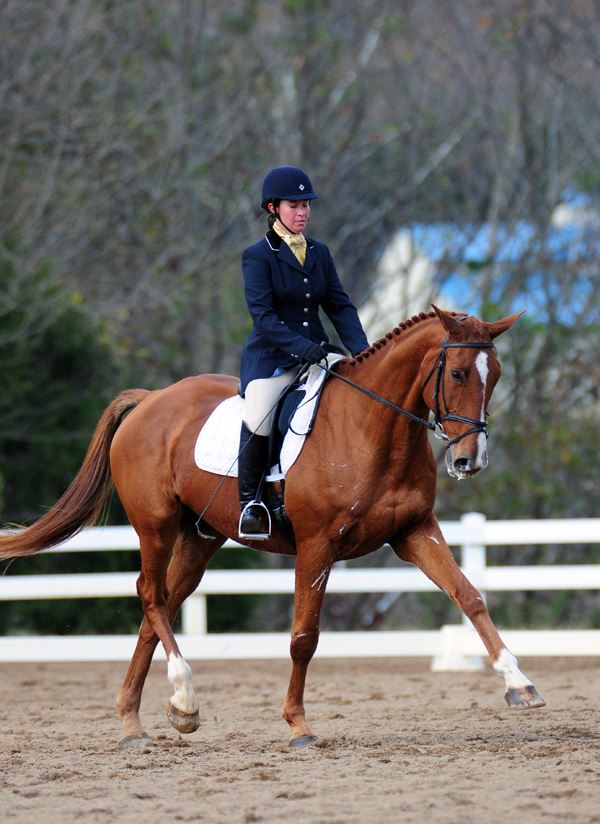 Alyssa is Last Frontier Farm's Assistant Trainer. She came to Last Frontier Farm in 2011 from Maryland, having successfully competed her own Stormin's Barbie through the Advanced level and earning Team Silver at the NAJYRC. A truly superb horsewoman, Alyssa is an "A" Rated Pony Clubber and retrains Off-the-Track Thoroughbreds and also breeds her own. She competes Last Frontier Farm's young and sale horses along with her homebred Stormin' Truth and R Perfect Storm. She is a fabulous teacher and patient rider, and we all appreciate her never-ending patience and kindness!
Rachael Livermore
Rachael began her Eventing career while at Foxcroft School on a full scholarship. While attending Foxcroft, she won the Charlotte Haxall Noland Trophy for Best Rider at Foxcroft. Now a JMU Graduate with Honors, Rachael has successfully competed through the Preliminary level and is kept extremely busy as Sharon's groom.  Her incredible attention to detail, discipline, and hard-working attitude are huge assets to the LFF Team.  She is dedicated to making sure that the horses have whatever they need both at home and at shows and takes great pride in their accomplishments!
Rachel Wilks
Rachel came to us in August of 2012 from Georgia, and currently attends Shenandoah University.  She successfully competed at the 2014 NAJYRC on the Area 8 two star team on her own River King, and currently enjoys competing him at the advanced level, gaining priceless experience at the highest levels.  She is also brining along her new horse, Great Expectations, and when not in school or in the saddle manages to keep Sharon organized as LFF office manager extraordinaire. Sharon is grateful for all Rachel does, her passion for horses, and her organized mind!
Woods Baughman
Woods came to Last Frontier Farm from Kentucky in the winter of 2015 to be a working student with his two horses Montesquieu and Truckee Bash. He represented Area VIII in 2014 at NAJYRC in the one star where he earned team bronze. He is currently competing Montesquieu at the intermediate level and getting to know his new horse Maverick McNamara. He is hoping to represent Area VIII again this year at NAJYRC in the two star, dedicated, hardworking and talented, Woods is a great asset to the team!
Kat Hogan
Kat joined the Last Frontier Farm team in November of 2015 after graduating from Meredith Manor Equestrian College. She loves working with the young horses and is amazingly patient and quiet with them, giving them an excellent beginning to thier careers. She does a great job at keeping the horses and farm in order while we are away competing.
George White
George welcomes everyone who comes to LFF into his home with open arms and a big "feel free to help yourself to anything!". Besides being behind Sharon and Team Orange every step of the way, he cooks everyone amazing dinners, and makes sure the horses always have carrots and the people always have coffee!
Jim Wofford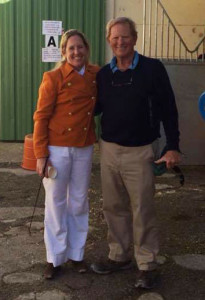 Sharon's longtime coach and mentor, Jimmy is invaluable in many ways. He offers quiet and always well spoken words of wisdom about riding and life. He is just as dedicated to Sharon's long term development – and that of her horses – as he is to more immediate goals. He also keeps an eye on our young horses, and teaches our staff while Sharon is away. A true horseman in all facets of the word, we are honored to work so closely with him!
Linda Zang
Linda is Sharon's fabulous dressage coach whose accolades are too numerous to list! She makes regular trips to the farm and has a great eye – she excels at making small tweaks that fix many issues! Sharon loves working with her to practice dressage tests before an event and to review the tests after to see what areas need to be strengthened.
Jim Ellis and Pearce Hunt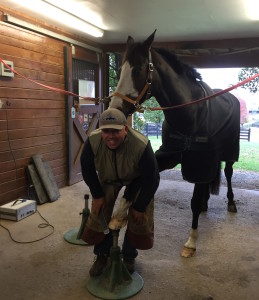 Our two fabulous farriers both live close-by, which is very convenient especially when you have as many horses as we do! Jim and Pearce work very well together and are both great at what they do. They have readily accepted every challenge we have thrown at them and we feel very lucky to have them taking care of our horses!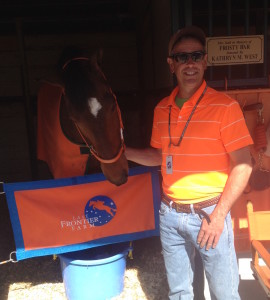 Dr. Jeff Beshear, DVM
Jeff is an integral part of our team and is absolutely dedicated to making sure our horses feel their best. He cheerfully puts up with our incessant questions and helps us to stay proactive in the care of our horses. Husband of fellow 4* rider Emily Beshear, Jeff can be found grooming for his wife on the weekends, which is very useful for us as we always have our vet handy to see the horses after cross-country and keep on eye on them throughout the event!
Dr. Lani Newcomb, DVM and Dr. Kathy Broaddus, DVM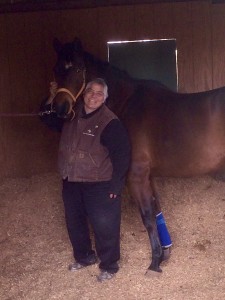 Lani and Kathy are incredible vets and friends who themselves compete in endurance and also enjoy foxhunting. Between the pair of them they have extensive knowledge of equine nutrition, emergency care, and general horse management and also perform all of our acupuncture.

Dr. Liz Paternotte, DVM, MS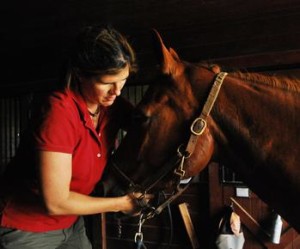 Our chiropractor Liz is in such high demand that we don't get to see her as regularly as we would like, but our horses sure do love when she comes! She offers such a thorough view of how our horses feel in their bodies and her experience as a vet helps her to really see the whole picture. A thumbs up from Dr. P on how your horse feels is one of the best compliments you can get! Visit her website at www.equineperformance.net